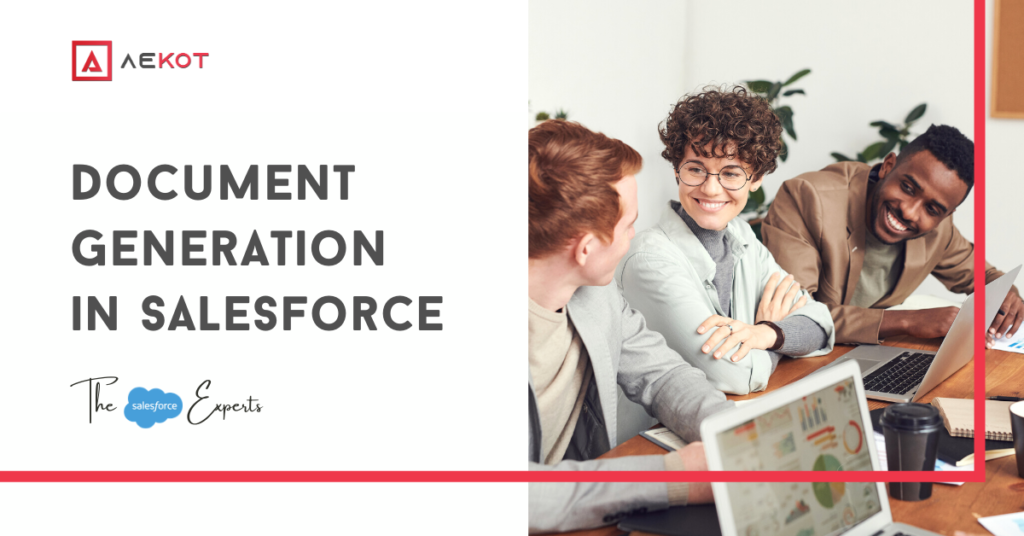 Any business that wants to scale understands the importance of automating redundant tasks. One painfully boring of such redundant tasks faced by teams across the globe is to manually create documents before sending them out, whether it is to a prospective customer or concerned stakeholders.
Teams across the organization often generate documents like quotes, proposals, contracts, NDAs, reports, POs, invoices, agreements, etc. And if your team uses Salesforce to propel your business growth, then you're in luck – as there are more than one ways to automate this entire façade. Automating document generation in Salesforce gives your business three main advantages –
Reducing the time of getting back to the prospective customers by generating & sending professional-looking documents with a click of a button
Making the team more efficient and feel motivated, by automating all the heavy-lifting and have them focus instead on getting a yes from prospective customers
Avoiding manual errors & miscalculations and streamlining the approval processes
In the Salesforce ecosystem, automating document generation is such an important problem to solve today that there are several companies whose entire business model is to offer such a solution to its customers. And because of this, there are a variety of solutions available out there with all kinds of over-the-top features.
Pro tip: A custom-made solution can actually be more cost-effective. It's better to go with a simple and minimalistic solution. Having a rocket scientist fix your car would only be an over-complicated and expensive affair.
Depending upon your requirements like (i) number of documents to be generated per month, (ii) types of documents you'd like to create, (iii) anticipated future requirements and your budget, you can go with one of the following options –
1. S-Docs
If you're a small business and need no more than two kinds of documents to be generated, all you need is an app called "S-Docs" that's available on the Salesforce AppExchange free of charge. S-Docs team is led by a former Director and Technical Architect from Salesforce.
The app is free to use with up to 2 templates but requires you to pay in case you need to use more than 2 templates or if you need technical support.
Contact us if you need any help in installing and using S-Docs or check out their website.
---
2. Docmosis
If you're a fast growing company that wants to create multiple kinds of documents like quotes, proposals, agreements, etc and don't want to use a service that costs a bomb, you should go with Docmosis. It provides a simple and elegant solution for generating documents using easy to create templates (use docx templates using Microsoft Word, Google Documents or use LibreOffice). With NO limits on the number of users and number of templates along with budget-friendly pricing, Docmosis is our favourite option especially for small & medium sized businesses.
Contact us if you want to know more about using Docmosis to generate documents in Salesforce.
---
3. Nintex / Conga / Docomotion
There are solutions which are more popular than others when it comes to offering document generation feature –
If you already have an in-house Salesforce developer or administrator, then you'll be able to save up some upfront cost of setting these up inside your Salesforce org. But, most of the popular solutions will also be a bit on the costlier end. For eg., Conga and Nintex are priced at $USD 20/user/month with minimum 10 users, whereas Docomotion is priced at $USD 14/user/month with minimum 14 users.
Although this is not an easily affordable option for many small & medium businesses, if money is not really a problem and you do have an in-house Salesforce developer, then these options are definitely worth considering.
4. Panda Docs / DocuSign / Adobe Sign
If one goes out looking for a solution that offers eSignature on top of a document generation ability, they're likely to come across some renowned names like Panda Docs, DocuSign and Adobe Sign. The reason being that these solutions have made a name for themselves when it comes to eSignature solutions. Honestly, if their out-of-the-box solutions fit your needs, or if you already have an in-house Salesforce developer on your team, then you can go with any one of them.
Again, since these are all popular solutions, they are expensive than a custom-built solution. Pandoc for Salesforce is priced at $USD 10/user/month in addition to a base paid plan. Docusign is priced at $USD30/user/month, whereas Adobe Sign is priced at $USD 34/user/month. Contact us if you need any help in installing and using any of these solutions or if you're interested in tips & tricks to reducing the prices!