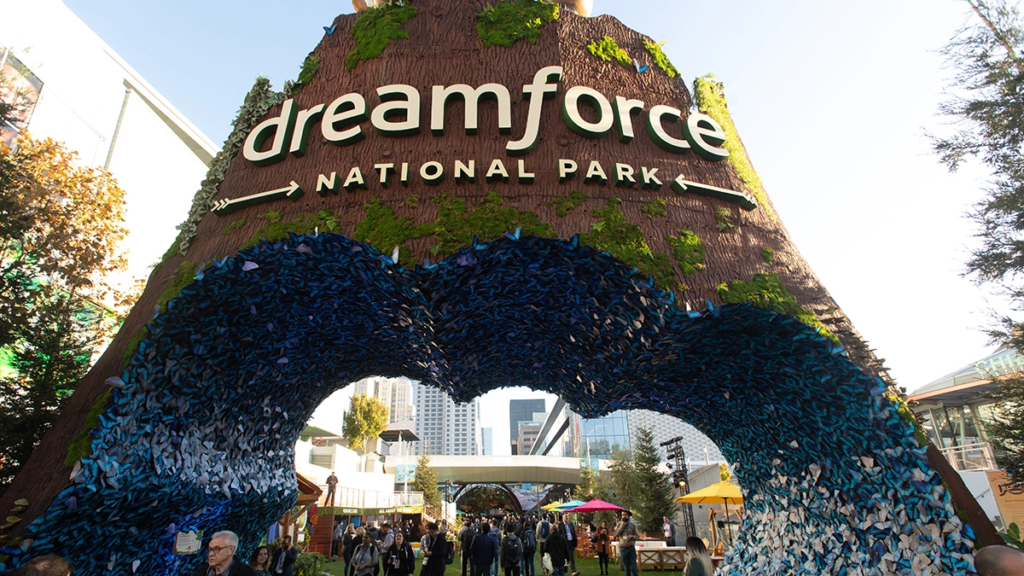 With September fast approaching, the excitement around Dreamforce 2022 is building up.  Salesforce's star event Dreamforce is the much anticipated and loved conference held in the city of San Francisco every year. It attracts the interest of thousands of trailblazers in the Salesforce community worldwide.
What is Dreamforce?
Dreamforce is a major three-day tech event/conference held annually in the city of San Francisco. Its purpose is to bring the Salesforce community of admins, developers, architects, and many more people in the technological ecosystem together.
Well, it's much more than just an event. Yes!
It began in the year 2003 and since then it has become one of the largest events in the technology industry globally.
Massive opportunity to meet and exchange with Salesforce experts, Trailblazers, and visionary leaders from the business world. Sharing success stories, Salesforce tips, innovations, customer stories, and catching up with industry peers is what all Dreamforce is all about.
Dreamforce is expecting more than 30,000 attendees this year. Due to COVID-19, the event was held virtually via Salesforce+ in 2020 and in 2021. San Francisco is the home of Dreamforce. This time it's a both virtual and in-person event. So if you are not able to attend, the event will be available online as well.
When is Dreamforce 2022 Happening?
The event usually takes place during the Fall and autumn of the year. It's happening on September 20-22. Tickets have been released and the registration process is live now! If you don't want to miss out on attending the Dreamforce this year, lose no time and speed up because the tickets sell really fast.
You could save up to $700 if you register early. The ticket price starts at $1299. To keep up with the latest news about Dreamforce, you can also take the help of the Salesforce Event App available on both Google Play and App Store. The Salesforce Event App is also beneficial for guiding you through the Dreamforce Campus in San Francisco.
What to expect from Dreamforce 2022?
The agenda for the year 2022 hasn't been declared yet. However, you can expect plenty of learning opportunities and valuable business insights happening in this jam-packed event.
Here's a list of things you can expect from this year's Dreamforce:
Main Keynote: Expect to hear all about the latest Salesforce features and announcements. The conference will feature a keynote session from Salesforce CEO Marc Benioff highlighting the improvements and latest innovations in Salesforce.
Celebrity Interviews: A popular event such as Dreamforce attracts high-profile legendary speakers. And this year is no exception! Previously the event has been graced by Barack and Michelle Obama, David Beckham, Stephen Curry, and Jane Fonda. We are excited and looking forward to what's in store for us this year.
True to The Core: Have any questions or doubts you wanna clear? Get your answers directly from Salesforce execs in this Q&A session.
Dreamfest: Let loose and party at the baseball stadium with legendary performers and iconic bands. Aside from official events, there will be parties organized by the Salesforce partners. This year's performer is yet to be revealed.
Heading for Dreamforce? Here are some tips on How to make the most of Dreamforce 2022.
Plan Your Time
As a highly popular tech event, it takes over San Francisco city. You need to schedule your time properly. Use a Salesforce event app to personalize your schedule and book your time during the event. There is some serious walking involved and you don't want to waste your time going from venue A to venue B. Also, take breaks to check how things are going in your office and for other work-related stuff. People participating virtually need not worry about that.
Have a simplified approach
Since Dreamforce is happening on such a large scale, it can also get a bit overwhelming too. Make sure to prioritize the sessions you absolutely want to see, so you won't be tired in this three-day-long event. Also, reduce any office/work demands so you won't be distracted while attending the important sessions, discussions, and activities.
Network
The biggest advantage of such a popular global event is without a doubt, Networking! This year it's expected that there will be more than 30,000 attendees from across 65 countries. This is the first in-person event of Salesforce after the pandemic. So this makes it even more special this year.
An excellent opportunity to meet like-minded folks looking to grow their business, make connections, learn new ways to enhance Salesforce skills, network, and meet new people. It's super favorable to foster business relations and bring in new leads to your Salesforce org.
Get Inspired
The three-day-long event will host multiple Salesforce sessions and engaging workshops. It includes presentations, social sessions, networking, discussions, professional tips and guidance, and much more! It is going to be extremely beneficial for gathering knowledge and awareness on the utilization of Salesforce for business.
Multiple insights and understanding of Salesforce await you in Dreamforce. There will be many hands-on learning opportunities and over 1400 sessions and breakouts! Don't miss out on participating in the biggest event in the technological industry.
Have Fun!
Salesforce's Dreamforce might be the biggest technological event of the year but don't you dare think for a second that it will be devoid of fun. Yes! There will be concerts, social events, and parties. Good times are in store for all the attendees. From celebrity guest speakers to rock concerts. And not to forget the famous musical headliner. Endless opportunities to meet other trailblazers, all while having the best time of your life.
You can learn, get inspired, meet fellow trailblazers and business people in the tech industry, and of course, have fun at the Salesforce Dreamforce event. We hope you found our tips on how to make the best of Dreamforce 2022 helpful. Here's wishing you a great and amazing Dreamforce experience.